AMRUSB-1 Utility Meter Data Receiver
The AMRUSB-1 has been discontinued. Please take a look at our embeddable receiver module as a potential substitute.
The tiny AMRUSB-1 Utility Meter Data Receiver receives and decodes energy and water consumption data from many of the 73 million deployed ERT-compatible utility meters and add-on meter transmitters manufactered over the two decades by EnScan, Itron, GE Energy, Schlumberger, Hunt, and others.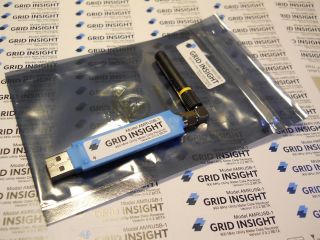 The AMRUSB-1 can receive standard consumption messages (SCM) and interval data messages (IDM) from meters that comply with Itron's ERT over-the-air protocol and digital data packet format. The AMRUSB-1 is ideally suited to work with ERTs operating in bubble-up mode, but it also receives signals from active wake-up mode ERTs (although it cannot initiate a wake-up transmission).
Based on independent testing, the AMRUSB-1 can receive signals from all Itron Centron C1SR R300 electricity meters, GE Energy I-210 series and kV2c series electricity meters with Itron ESS module, electromechanical electricity meters fitted with Itron series 45 ERT transmitters, Itron 60W and 100W water meter transmitters, Itron 100G gas meter transmitters, and many others. See the data sheet for a complete list.
Because of Grid Insight's unique position having independently engineered its ERT-compatible receiver technology, our products are not encumbered by third-party license fees and artificial functional limitations.
The AMRUSB-1 receiver outputs a well-documented, straightforward serial data stream that looks very much like the NMEA 0183 protocol used by most GPS receivers. For testing, you can connect to the receiver using any serial terminal program.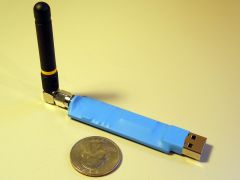 Need a custom or embedded solution? Please contact us.
Key Specifications
Tiny 12mm x 55mm "thumb drive" form factor
Receives Itron ERT IDM and SCM meter data messages from electric, gas, and water meters
Electric load precision of ±120 watts at five minute intervals or ±60 watts at ten minute intervals with IDM meters
Works with high-power (FCC Type 15.247) and low-power (FCC Type 15.249) meters
Compatible with ERT protocol, used by over 73 million utility meters
Frequency range: 902.0 to 928.0 in 100 kHz steps
Adaptive frequency-hopping receiver design
Sensitive to approximately -95 dBm
SAW filter to reduce out-of-band interference
20 Mhz PIC microcontroller
Bi-color status LED
Wide range of antenna options using SMA jack
CRC and NMEA (two's complement) error detection
No FCC license required
Additional Information
AMRUSB-1 Data Sheet (PDF)
AMRUSB-1 Interface Specification (PDF)
AMRUSB-1 USB Driver 515 kB 08-98-2012